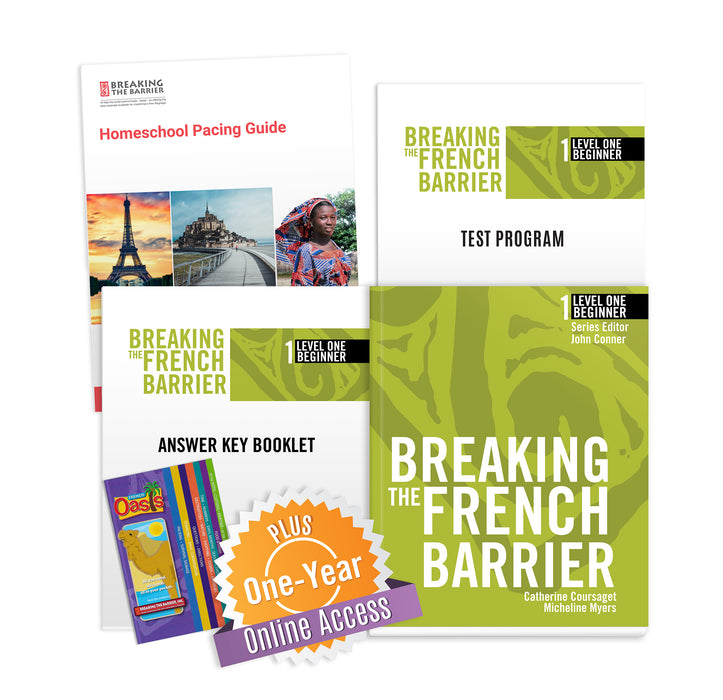 French Level 1 Homeschool Package + Online Access Code
Original price
$150.00
-
Original price
$150.00
Online Access Code is delivered via email upon purchase. Please check your spam folder or "promotions" tab if has not arrived after a few minutes.
All you need for a year's worth of French curriculum! 
French Level 1 Student Edition book (hardcopy)

French Level 1 Online Access (12 months). Online Access Code can be activated whenever you are ready to begin!

Answer Key Booklet (hardcopy)

French Oasis (hardcopy)

Test Program (hardcopy)

Pacing Guide (hardcopy) including a suggested calendar, grading rubric, and other helpful suggestions. 
Overview:
Level 1 assumes no prior knowledge of French. It starts from the very beginning by introducing simple words and phrases that can be used right away. The "First Steps" section presents all the sounds of the French language so that students can develop an authentic accent. 
Theme-based, simple words and vocabulary offers students opportunities to learn words relevant to their daily lives at home, school, and beyond.  
An action-packed dialogue series appears throughout the book offering students reading and listening comprehension practice.
Throughout the chapters, easy-to-understand explanations unravel these essential building blocks of language:
nouns, pronouns, adjectives, verbs, adverbs, conjunctions, and prepositions
the present, passé composé, imperfect, and progressive tenses
formal commands
The "online access code" provides 12 months of access to the online version of the print textbook. The online textbook integrates audio, video, cultural articles, answers, beautiful pictures of sites of interest, and notable people from French speaking countries. The exercises are interactive. A student can click on any single answer, see immediately if he/she is right or wrong, and view the correction. There are also responsive flashcards with sound files, oral questions, video instructional capsules. But the content -- explanations, exercises, and dialogues are exactly the same as the print book. Online Access provides students powerful tools that may appeal to different learning styles, especially auditory and visual learners.
Full product value of $170.00! 
Click here to view a sample print chapter.
Click here to view a sample online chapter. 
Click here for the table of contents. 
ISBN: 978-1-955306-12-6